Workforce Management built for today's contact centers
Omnichannel Workforce Management (WFM) doesn't have to be hard. Playvox's complexity-taming AI makes your capacity planning, forecasting, scheduling, and intraday planning easy and accurate. It's time to upgrade to cloud-native WFM for the way we work today.
Your business evolves in real-time.
Your capacity plan should too.
Playvox WFM moves at the speed of your business, elevating capacity planning from a one-and-done silo to an integrated and dynamic solution that evolves with changing hiring conditions.
You can't fix what you can't see.
Gain the visibility you deserve.
With Playvox WFM, get a real-time view of planned vs actual for every location and work type. No matter what today brings, our AI-powered foresight helps you adjust and stay on track.
Your reports should work for you.
Not the other way around.
Our simple, interactive dashboard covers the KPIs you need to master planning and performance including shrinkage, adherence, workstreams, occupancy, service levels, and forecast accuracy.
Shift changes are a hassle of the past.
Give your agents flexibility.
Playvox WFM elevates the employee experience by supporting shift swaps within the team. Set predefined rules, so your agents, customers, and schedulers all win.
Workforce Management built for today's contact centers.
Most WFM solutions were designed for voice calls first. Playvox WFM was built from the ground up for digital-first, omnichannel contact centers and supports the workflows required today.
Schedule the concurrent work other WFM solutions can't support.
Where the old algorithms of the competition fall short, Playvox WFM goes beyond and easily handles the concurrent model common for digital service channels like chat, email and social media.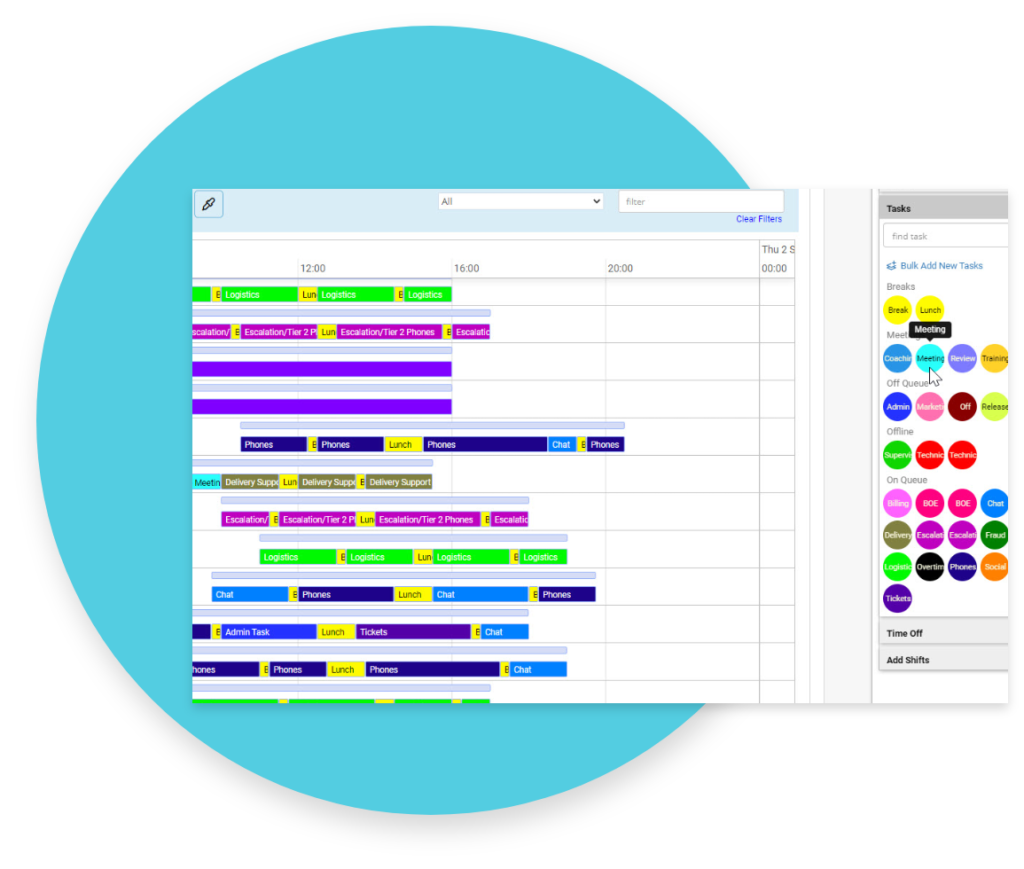 Simple, elegant, and easy to use.
So easy to use, customers greatly reduce the time dedicated to manage Playvox Workforce Management. Our purposeful, intuitive design means training is quick and easy for agents, team leaders, and contact center managers.
Related Resources
Here's an alarming statistic: More than half (56%) of contact center agents say they'd think about leaving their jobs if they couldn't work remotely. Our 2022 research study of contact center agents and managers revealed a big conflict between these groups: Despite most agents' appetite for remote work, almost half of contact centers plan to…
As workforce management professionals, we are faced with the daunting task of figuring out the ideal forecast, matching that forecast with a schedule and then making sure that our "master plan" works in the real world – meaning all the people that we are counting on for their shifts work their shifts as planned. Unfortunately,…
During my time as a workforce management (WFM) professional, I have implemented WFM systems into several departments within multiple companies. These implementations were either with a department or company that did not have a previous WFM system or they had one but were not using it to its potential. In some instances, the workforce management…