Workforce Management built for today's contact centers
Omnichannel Workforce Management (WFM) doesn't have to be hard. Playvox's complexity-taming AI makes your forecasting, scheduling and intraday planning easy and accurate. It's time to ditch the spreadsheets for a cloud-native, quick deploy solution.
Your business evolves in real-time.
Your software should too.
Playvox WFM keeps up with the evolving pace of your business, automating schedules up to the minute with accuracy and intelligence that spreadsheets can't match.
You can't fix what you can't see.
Gain the visibility you deserve.
With Playvox WFM, get a real-time view of planned vs actual for every location and work type. No matter what today brings, our AI-powered foresight helps you adjust and stay on track.
Your reports should work for you.
Not the other way around.
Our simple, interactive dashboard covers the KPIs you need to master planning and performance including shrinkage, adherence, workstreams, occupancy, service levels, and forecast accuracy.
Shift changes are a hassle of the past.
Give your agents flexibility.
Playvox WFM elevates the employee experience by supporting shift swaps within the team. Set predefined rules, so your agents, customers, and schedulers all win.
Workforce Management built for today's contact centers.
Most WFM solutions were designed for voice calls first. Playvox WFM was built from the ground up for digital-first, omnichannel contact centers and supports the workflows required today.
Schedule the concurrent work other WFM solutions can't support.
Where the old algorithms of the competition fall short, Playvox WFM goes beyond and easily handles the concurrent model common for digital service channels like chat, email and social media.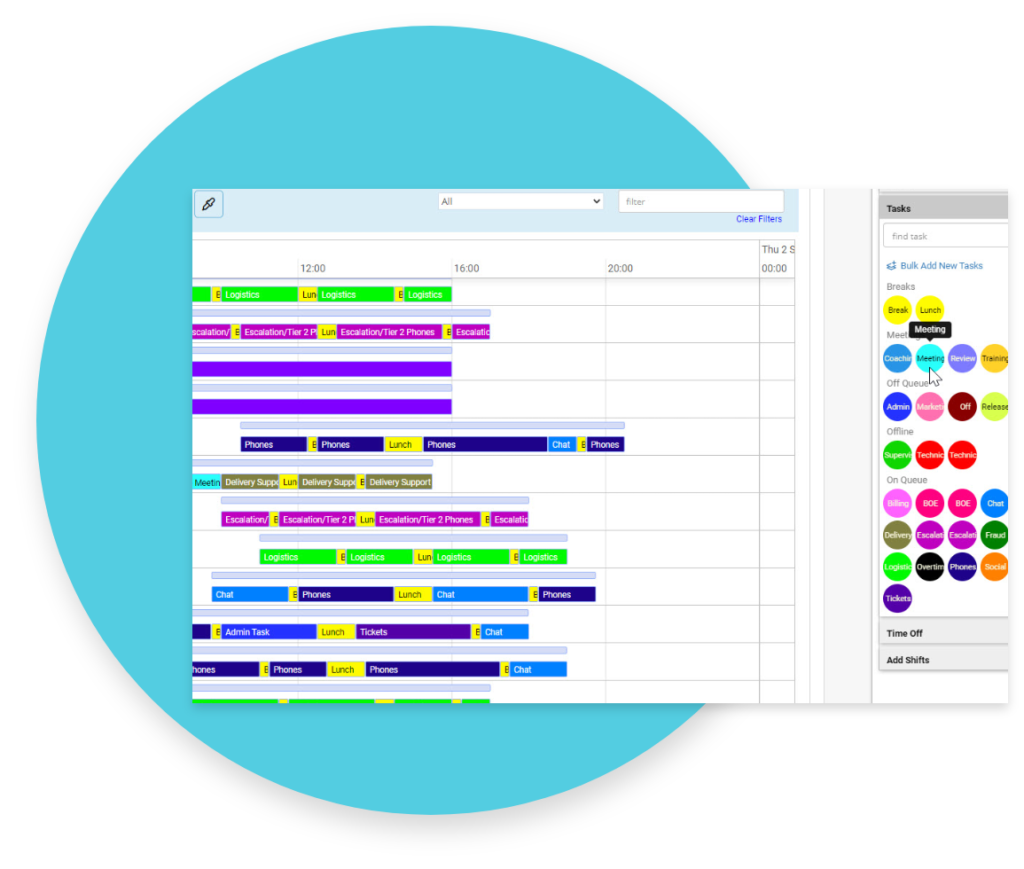 Simple, elegant, and easy to use.
So easy to use, customers typically don't need an FTE to manage Playvox Workforce Management. Our purposeful, intuitive design means training is quick and easy for agents, team leaders, and contact center managers.
Related Resources
Workforce management has a lot in common with team sports. They both carry a sense of purpose, a goal the team can orient its actions around. They both come with coaches, leaders who motivate the team to do their best work. And they both benefit from smart huddles, where planning, communication, and expectations converge. As…
Spreadsheets are a useful way to get your contact center organized and off the ground but can quickly become a bottleneck to growth and efficient communication. Your resource planning and quality teams can become bogged down with duplicate sheets, unnecessarily manual processes, and even end up being over-staffed in your contact center. COVID-19 and the…
As in-person interactions with customers have largely been suspended during the pandemic, customer experience centers have evolved from simply offering reactive support to providing proactive customer engagement. More than just a cost center, modern customer experience organizations are now responsible for support, as well as customer acquisition, retention, cross-selling, and upselling. In a digital-first world,…