Workforce Management built to get operations under control — quickly and efficiently
Omnichannel Workforce Management (WFM) doesn't have to be difficult. Playvox's complexity-taming AI makes your capacity planning, forecasting, scheduling, and intraday planning easy, accurate, and far less time-consuming.
Reduce overhead costs and create efficiency by evolving your capacity plan in real-time
Playvox WFM moves at the speed of your business, elevating capacity planning from a one-and-done silo to an integrated and dynamic solution that evolves with changing hiring conditions so you never overspend or under-prepare.
Create exceptional experiences with real-time visibility into your business
With Playvox WFM, get a real-time view of planned vs actual staff for every location and work type. No matter what today brings, AI-powered foresight helps you adjust and keep service levels — and your budget — on track.
Customize your insights to focus on the KPIs that matter most
Our simple, interactive dashboard covers the KPIs you need to master planning and performance including shrinkage, adherence, workstreams, occupancy, service levels, and forecast accuracy.
Empower your employees with flexible shift change management
Playvox WFM elevates the employee experience by supporting shift swaps within the team. Set predefined rules, so your agents, schedulers, and customers all win.
Workforce Management built for today's contact centers
Most WFM solutions were designed for voice calls first. Playvox WFM was built from the ground up for digital-first, omnichannel contact centers and supports the efficient, cost-aware workflows required today.
Schedule the concurrent work other WFM solutions can't support
Where the competition's old algorithms fall short, Playvox WFM easily handles the concurrent model common for digital service channels like chat, email, and social media — keeping you from over- or under-scheduling.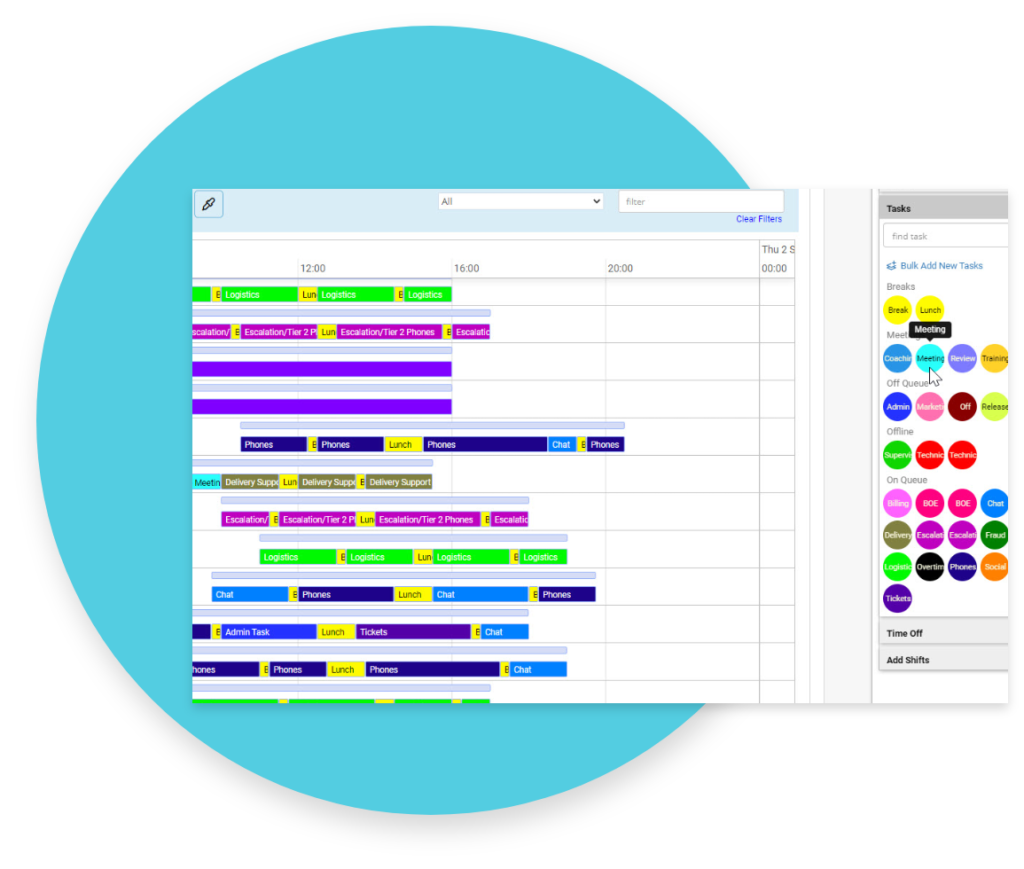 Easy to use, a cinch to learn
So simple and intelligent, you'll save hours on workforce management. Our intuitive design means agents, team leaders, and contact center managers can train in no time and stay focused on what matters most — delighting customers.
Related Resources
No matter where your contact center team is physically located, bringing out their best performance can be a big challenge. Adding remote work or a hybrid setup to the mix can make things even tougher. But does it have to? Why Agents Want To Work Remotely — And Why You Should Let Them Remote and…
Working with virtual teams of agents in your contact center can sometimes mean you feel disconnected from them — or even worried that you aren't able to properly manage their performance. Those concerns might be why almost half of the contact center leaders in our 2022 remote work research study told us that they're bringing…
Let's face it, the call center of yesteryear is not wholly relevant when looking at customer service operations today. Even the terms "call center" and "contact center" are called into question, given the images they evoke of rows of agents in cubicles lined up to fill a room. For convenience, I'll use the term "contact…